If you're looking to migrate your Cloudways website to a new server or you're looking to find the Master Credentials to SSH, then then you might need to know the application folder name that a given application has. This can be a daunting prospect for many people and they won't know where to start. So here is a quick and easy set of instructions to help you find the application's folder name.
The instructions also include how you can quickly change your application folder's name.
Step 1 – Log In
The first step is to log into your Cloudways account using your credentials.

Step 2 – Applications Management
Now you need to click on the Applications option in the top menu bar. And then you want to select the target application from the list of available.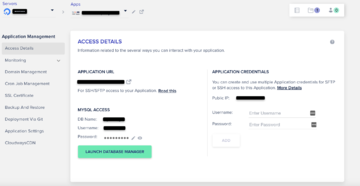 Step 3 – Folder Name
Now under the Application Management area, you can select the 'Application Settings' section. You can then find the application folder name there.
In this area, you can rename the application folder to something that makes more sense to you. All you need to do for this is to click on the edit icon.
Why Would you Need to Change the Folder Name?
There are numerous reasons why you might want to change the folder name for your application. For instance, the name that has been given to your application when it was set up was not accurate. You could have changed the domain name for your website or you could have wanted to rebrand your website to something more aligned with your purposes.
Sometimes you could have had a web development team build your website for you. They could have named your website something that is more memorable to them rather than you. Therefore, when you take control of your website, you might want to change it so you take more ownership.
If you've bought a website from another company, like you've bought a business, then you might want to change the folder name for security reasons. If you've also had a breach of security on your website, then you might want to change the folder name as this can be one way that hackers can regain access to your website.
You might also want to change the folder name if you've cloned another application. This will mean that the folder name should be something similar to 'Copy of Example.com'
Therefore, there are lots of different reasons why you might want to change the folder name on your server.
Final Word: How to Find Your Application's Folder Name on Cloudways
It is very easy to find and change your application's folder name on Cloudways. It takes less than a minute to complete on your own and you don't need to have any technical experience to do. Changing the folder name can be done for many different reasons and the effect can happen immediately.