Kinsta utilizes a number of potential useful notifications that can be sent to you. This can make managing your WordPress website a lot easier and you don't need to log into your website every day or every hour. In addition, you can have notifications that can cover invoices and other general notifications that you might want to have.
You can manage the notification settings for MyKinsta using these steps below, so you get the messages you want for your website.
Step 1 – Log In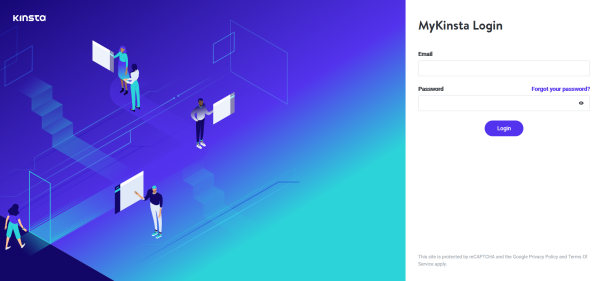 The first step is to log into your MyKinsta account.
Step 2 – Notifications
Then you can navigate down to the lower-left corner of the screen and select the option that reads 'User Settings'. Then you can click on the 'Notifications' tab.
Step 3 – Notifications Tab
Within this tab, you will have direct access to manage many different notifications on your MyKinsta account. This will include overall, newsletter, invoice, Beta Crew and Site Monitoring. A quick overview of them can be found below.
Overall Notification – This tells you when you might have reached a limit on your plan. For instance, if you're going to run out of disk space or bandwidth. When this is activated, you will be sent a message when you're above 80% usage.
Newsletter Subscription – Once a week, you will receive a newsletter. It is perfect for bloggers, WordPress agencies, content marketers and others who want to stay up-to-date with the latest industry trends.
Invoice in Email – This passes onto you the invoice for your account. This will be PDF invoices via email. You're also able to go to the 'Company' and then 'Billing' section of the MyKinsta section to find copies of any and all invoices that have been directed to you. This option is only available to those users who have billing rights on the account.
Beta Crew Participation – This is a feature that allows you to be notified if there are any beta programs being run for new features or updates on existing features. These beta testers are there to test new features and feedback on their thoughts. This is great if you want to get ahead of the competition and test out new potential features before your rivals.
Site Monitoring – This allows you to be notified if there is a problem on your website that requires your critical attention. There are many scenarios that can be covered by this alert including DNS errors, SSL errors, Site Downtime and more.
Final Word: How to Manage MyKinsta Notifications
Managing your MyKinsta notifications is really simple. There are several notifications that you can enable or disable depending on what news and alerts you would like to receive. These can be changed at any time as well.