If you manage lots of websites and have the domains on a registrar, then you will need a way to control the DNS records with ease. There are time issues that make using DNS really challenging and for those who are new to the world of managing websites, it can be very daunting.
Cloudways does not offer DNS services. You will need to use one of your own DNS providers (domain registrars usually offer this service) or you can add a subscription to the DNS Made Easy addon that is available through Cloudways.
If you want to like to keep as much as possible on Cloudways, then read on how you can activated your DNS Made Easy Addon and use it.
Step 1 – Log In
The first step is to log into your Cloudways admin area with your user credentials.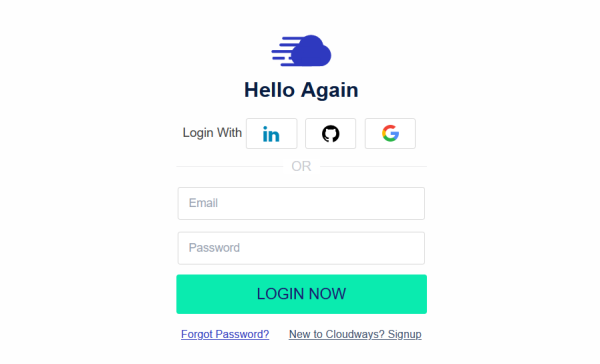 Step 2 – Addons
Now you need to click on the top menu bar. Within that area, there is an option that reads 'Add-Ons'. Select this.

Step 3 – DNS Made Easy
Now you need to find the 'DNS Made Easy' addon from the list of available subscriptions. You should click on the 'Edit' icon that takes the appearance of a pencil. This will allow you to update the subscriptions.

This will ask you how many domains you need the DNS for. For most people, there is the option available. However, if you require management for more domains you can add the number within the 'Notes' field. When you've completed this, click on the 'Subscribe' option.
Step 4 – Activation
You will receive a message to confirm when the add-on has been activated.
This addon has to be manually activated by the Cloudways team. The status for the addon changes to Pending while the Cloudways team goes over the details that you've sent. If they need to coordinate further with you, they will contact you through the ticketing system. The ticket will be created automatically for you.
The Advantages of using the DNS Made Easy Add-on on Cloudways
There are several advantages of using the DNS Made Easy Add-on on Cloudways. The first is that it makes domain configuration really simple and allows you to properly set up your DNS records on your cloud provider.
If you've got a site migration going on, the DNS can handle the TTL settings for you. And you can prevent your site from going down with four layers of redundancy. So, if there is a problem, then traffic can be redirected to a preconfigured secondary IP address.
Final Word: How to Use the DNS Made Easy Add-on on Cloudways
If you're struggling to manage your DNS records for your Cloudways websites then you might want to consider using the DNS Made Easy Add-on on Cloudways. It is really easy to use and has a lot of benefits. However, there are additional costs that you will need to manage and it has to be manually activated on your account. This might take some time on your website.