What would happen if your website was hacked? Or what could you do if there is some malicious code that was installed on your site when you've added a plugin or theme. Or perhaps there has been an accidental deletion of your core files.
These scenarios happen more often than you might realise. According to some reports, 50% of small businesses are targeted by hackers every year. Not all attempts are successful, but there can be some considerable damage from a small hacking incident and not all businesses can recover.
There are three ways that you can perform a server backup. You can do a backup either locally, download via SFTP or you can use the off-site backup option.
Server Level Backup on Cloudways
Off-Site Backup
Cloudways has created a backup system that uses the Remote Storage Network hosted on Amazon Bucket Storage to help businesses quickly and effortlessly when there has been a mistake. This is an incremental system where the size of the stored files showcase will determine the cost. The charge is $0.033/GB.
The backup is compulsory and you cannot disable it. Therefore, there is always a backup of your website and should you need it, you will be very grateful.
Local Backup
The local backup is an additional backup of your website. For the local backup, you will need to enable the option on the Cloudways Server Management Settings. To do this you need to log into your Cloudways Account and then you can go to your Server. Find the option that reads 'Server Management' and then go to the 'Backups' option.
Within this menu, there will be an option that reads 'Enable Local Backup'. When you've enabled the backup, you can click on the 'Save Changes' button. You can then go to the 'On-Demand Backup' and click on the option 'Take Backup Now'.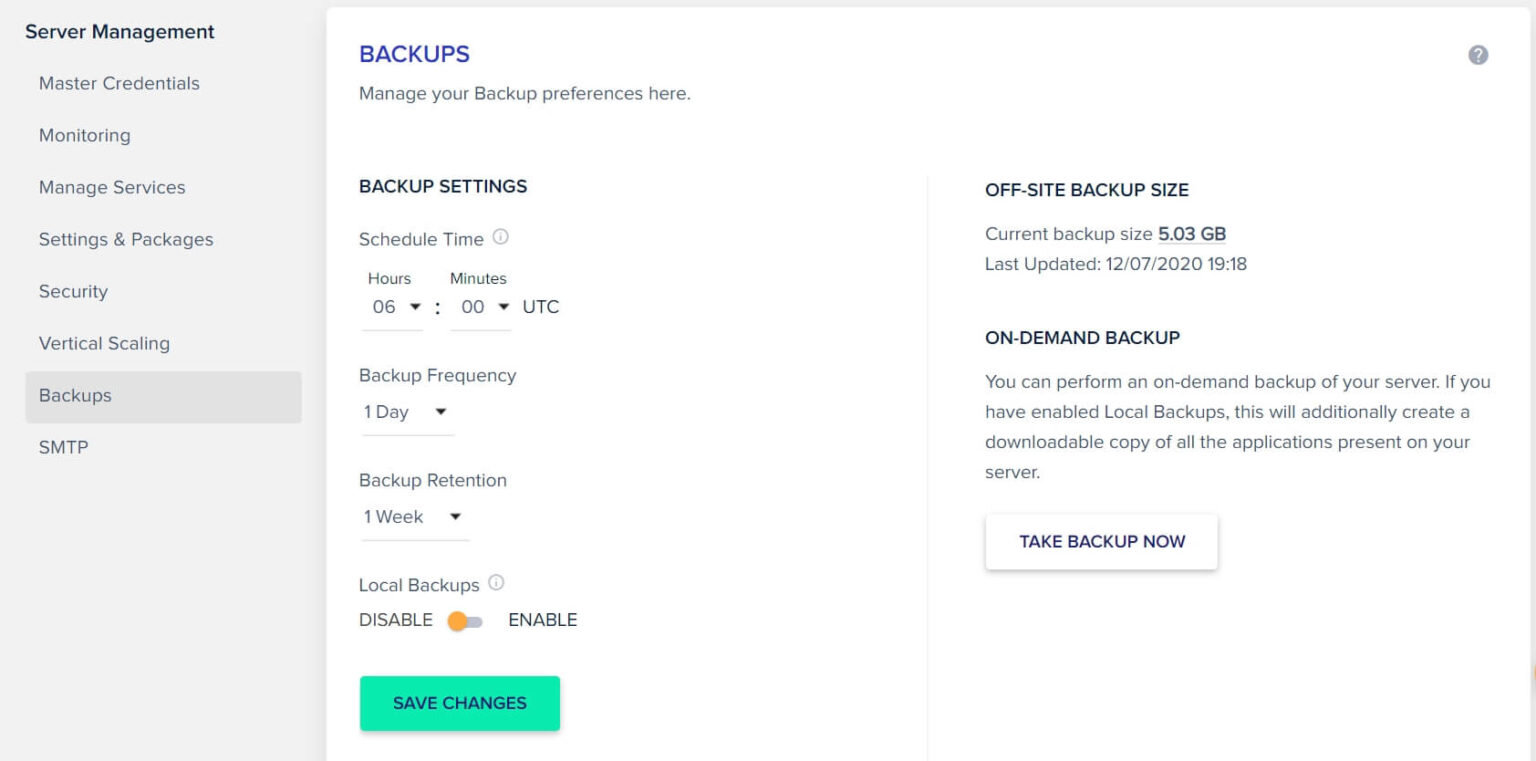 When you're creating the local backup, the Cloudways system will create a local_backups folder. This can be downloaded through SSH/SFTP. One of the best software packages to use on this is Filezilla, but there are other clients that you can use.
Automatic Updating
You can also automate the process. This can help you perform the action without any manual intervention. You can schedule the time that the backup will be happen, how often the backup will happen and then how long the backups are kept.
You can keep backups from anything for up to four weeks. Depending on how long your website has changed will depend on how long you will want to keep backups. Ideally, you want to keep at least three versions of your website with backups. The default option should be one week.
Final Word: How to Back-up Your Server on Cloudways
A backup of your server on Cloudways should be regularly done. If you make daily changes to your website, then you should be taking backups once a day. If you make infrequent changes to your website, then you can wait for at least one week. Luckily, your website will be automatically backed up.