When it comes to hosting a website on the internet there are very few platforms that are as good as Cloudways. This is partly because there are numerous systems that are used on Cloudways. You have access to lots of managed hosting services that can help you reach an audience, for an affordable price that will give you the best performance for your website.
So, why should you be using Cloudways and how can you start using Cloudways for your business' website?
Why Should you be Using Cloudways?
Cloudways is one of the best platforms when you've got a website to host, especially if it is a WordPress website. That is because they offer you cloud hosting that offers you faster speed, higher redundancy levels (more uptime) and an easy interface. All the setup is managed for you by the team at Cloudways, whereas if you went direct to many of the providers they use, you would have to complete the setup yourself.
They also offer optimization tools. For instance, their WordPress website set up can include their own plugin called Breeze that improves loading times. This can be very important because speed is linked to ranking and conversions on your website.
Therefore, the faster your website, the more profitable it can be.
In addition, there is some support from Cloudways, that you might not get from the service provider directly. This can mean that if there are errors or problems with your hosting, these can be fixed within relatively little time without hassle.
Cloudways offers you a trial period that can be perfect for building your website without enduring costs while it is not being productive. You'll also benefit from a free SSL that can help you rank higher and protect the privacy of your website's visitors.
How to Setup Cloudways
Getting started with Cloudways is very simple. It takes very little effort and you only need the basic information to get your account set up.
Here are the instructions to get your own, free account on Cloudways.
Step 1 – Cloudways Website
The first step is to go to the Cloudways website. You can find it by clicking on this link here.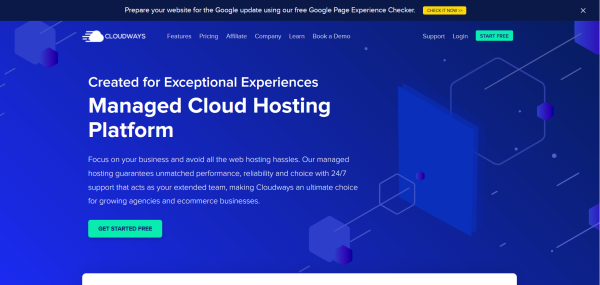 Step 2 – Start Free
Now you will be on the Cloudways home page. In the top right corner you can see the button that says 'Start Free'. Click on this button.
Step 3 – Signup Form
Now you will be presented with the signup form that you can use to signup to Cloudways. There are four options when it comes to the account creation. You can use your LinkedIn account, Github account or your Google account. Alternatively, you can complete the short signup form on the page.
There isn't much information here and the form only takes a few minutes to complete.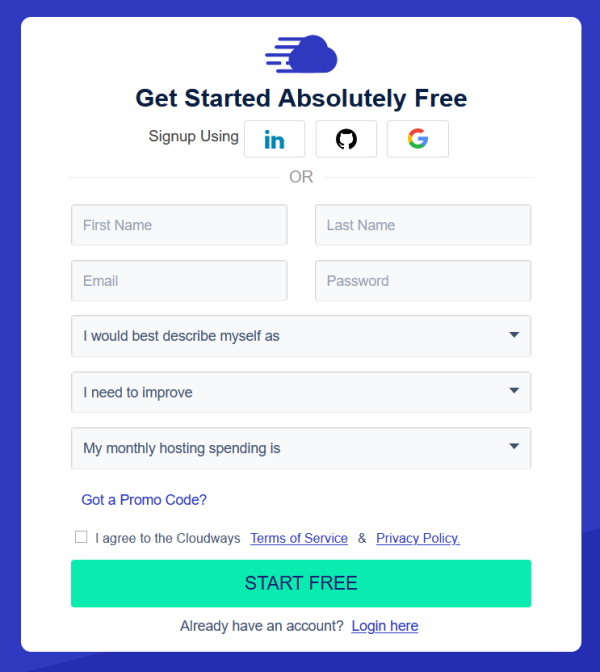 When you've finished entering in the information, you can click on the 'Start Free' button at the bottom of the form. And you're done.
Final Word: How to Set Up Cloudways
Cloudways is a great way for you to get your website online and performing well. The steps above detail how you can set up your first Cloudways account for access to the best cloud hosting platforms on the internet at a reasonable price.